NewTek TalkShow VS100 – Skype Video Controller
Professional broadcast quality video from regular Skype calls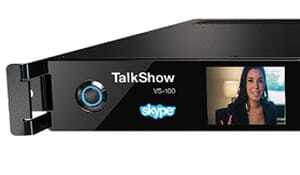 TalkShow VS-100 is a video calling production system designed for webcasters and live event producers that allows professionally managed Skype calls to be included in any meeting, event or webcast.
Reach over 300 million monthly Skype users and conduct every call with complete confidence, by utilizing high-quality, full-motion video previews, accurate on-screen audio VU metering, and full-color, built-in video screen with tally.
Please contact Adrian for latest price and availability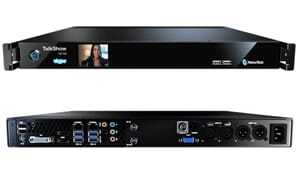 NewTek TalkShow delivers professionally managed Skype calls with enhanced audio and a richer HD picture.
Perfect for live events and webcasts:
– Host a professional 2 way Skype interview
– Enhanced quality from regular Skype call
– SDI Embedded Audio
– Communicate off-air with the Skype caller Talk-back
– Built-in video quality checks
– Full proc-amp controls and automatic color correction
– User-friendly interface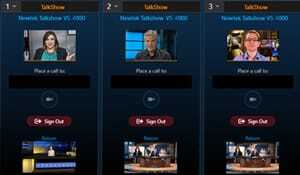 Ensure your guests look as good as they sound, with enhanced real-time image processing and fully configurable color correction tools, including proc amp controls, auto color setting, and white balance—and clean, deinterlaced return video to caller.
Deliver conversations that sound more professional. Independently adjust incoming and outgoing audio signals for the highest-quality sound, with the only single-channel video calling system that offers built-in gain control, graphic equalizer, and compressor/limiter.
AV equipment commonly rented with the NewTek TalkShow VS100
Jamie
2018-10-23T12:09:59+00:00
WaveFX a video and webcasting production company filmed and streamed Natalie [...]
Jamie
2018-05-23T16:03:50+00:00
Commonwealth Summit LIVE webcast from Buckingham Palace This week the UK [...]
Jamie
2018-10-23T12:22:45+00:00
The West End production of Motown the Musical opened this month [...]
"WaveFX provided a friendly and efficient service that allowed us to capture our event to the highest possible standard. There is no doubt we will be using the WaveFX team for our next event and NewTek TalkShow VS100 hire, we highly recommend them to all their potential customers"
They have over delivered on every project and NewTek TalkShow VS100 hire.  Great to work with and a cost effective. An efficient and proactive resource.
WaveFX are incredibly responsive, with a refreshing approach to filming and live event streaming – 100% recommend
Happy clients we're proud to be working with