Proactive Event Filming and AV support
Whether you require single camera coverage of your event, or a multi-camera set-up with vision mixing, we can supply the right equipment with a highly experienced crew
We believe in a friendly yet professional approach and we'll work closely with your conference organiser, venue and event production company. Please call to discuss your latest event, road show or conference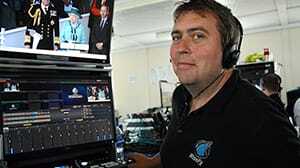 We can vision mix your event for recording, projection and webcasting. Our creative vision mixers use a livestream HD550 which captures and mixes multiple cameras, graphics, sound and titles.
Our aim is to deliver creative webcasts that strike the perfect balance between engaging your audience and delivering your key messages.
We can help with as much or as little of the production as needed, if you require a sound engineer and PA, lighting or a set design company please just let us know
Whatever the production we can provide professional proactive crew that will work hard to produce something creative and unique that will add value to your budget
Jamie
2018-10-23T12:09:59+00:00
WaveFX a video and webcasting production company filmed and streamed Natalie [...]
Jamie
2018-05-23T16:03:50+00:00
Commonwealth Summit LIVE webcast from Buckingham Palace This week the UK [...]
Jamie
2018-10-23T12:22:45+00:00
The West End production of Motown the Musical opened this month [...]
As live event and conference producers we only get one chance to get things right. That's why we have used the WaveFX live camera team for the last 10 years, as they always deliver a great job.
Thank you again. If a thing is worth doing, it's worth doing well, and you did brilliantly
"WaveFX recently managed the event filming and webcasting of our Company Meeting. We were extremely impressed with their professional and informed service. We have received very good feedback from our remote participants who experienced the live stream. We will not hesitate to call on WaveFX for our future streaming requirements."
Happy clients we're proud to be working with