Teradek Link Pro Backpack for 4G Bonded WiFi
Receive high speed internet access at any location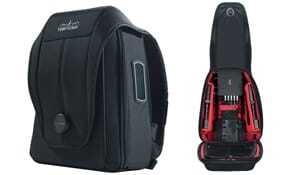 The Link Pro is a high performance bonded 4G WiFi Access Point giving webcasters, event organisers and production companies, high speed internet access at any location.
Specs
– Combine Ethernet, WiFi, and cellular modems
– High Performance Bonded 4G WiFi Access Point
– 2.4 / 5GHz | 802.11ac WiFi with 1000 ft. range
– V-Mount battery connecter
– 4 performance 3G / 4G/ LTE modems
– Use any sim from Vodafone, EE, BT etc.
– Core subscription required for bonding
Please contact Adrain or email office@wavefx.co.uk for questions, costs and availability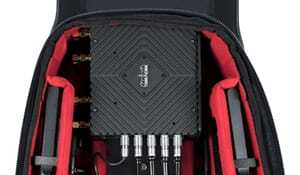 Access fast internet anywhere you go with Link Pro. Whether you require connectivity in a rural office or on location in remote areas, Link Pro's bonded network capabilities help you to get online from the most challenging places.
Wireless reception for Teradek Node modems is greatly enhanced with two high gain antennas attached to the interior of the backpack.
The ergonomic backpack includes four Node modems a V-mount battery plate, which will power the system continuously for up to 24 hours.
Any questions please do get in touch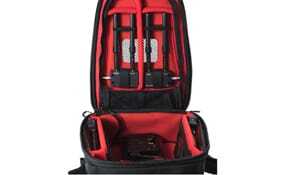 This Teradek Backpack allows anybody to surf the web, check their email, upload files, or even stream live video online from areas they otherwise couldn't before.
Each backpack supports up to 4 USB or Teradek Node modems, ensuring you have connectivity wherever you go.
A Node is a small yet effective cellular modem solution that provides exceptional connectivity in regions around the world, allowing video professionals to broadcast over 3G, 4G, and 4G LTE networks.
You can use up to four Teradek Nodes to increase your bandwidth and establish an Internet connection when another connection is unavailable.
Jamie
2018-10-23T12:09:59+00:00
WaveFX a video and webcasting production company filmed and streamed Natalie [...]
Jamie
2018-05-23T16:03:50+00:00
Commonwealth Summit LIVE webcast from Buckingham Palace This week the UK [...]
Jamie
2018-10-23T12:22:45+00:00
The West End production of Motown the Musical opened this month [...]
"WaveFX provided a friendly and efficient service that allowed us to capture our event to the highest possible standard. There is no doubt we will be using the WaveFX team for our next event and Teradek hire, we highly recommend them to all their potential customers"
They have over delivered on every project and Teradek hire.  Great to work with and a cost effective. An efficient and proactive resource.
WaveFX are incredibly responsive, with a refreshing approach to filming and live event streaming – 100% recommend
Happy clients we're proud to be working with